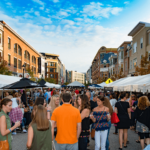 Cheers To 10 Years! Crocker Park Wine Festival Is Back September 17-18

Tickets On Sale Now For The 10th Anniversary Two-Day Event On Main Street To Benefit University Hospitals Rainbow Babies & Children's Hospital
The Crocker Park Wine Festival Presented by Market District will commemorate 10 years as it kicks off the two-day event celebrating wine from around the world this September to benefit longtime partner, University Hospitals Rainbow Babies & Children's Hospital. The event will be set up throughout the streets of Crocker Park and host over 150 local, national, and international wine producers as well as beer, spirits, local vendors, food vendors, casual seating, and live music. Attendees can enjoy tastings during the event and purchase their favorite wine choices at Market District in Crocker Park's Promenade.
"The Crocker Park Wine Festival has become a staple event for us over the years, and we are thrilled to welcome it back and celebrate its 10th anniversary," said Stacie Schmidt, Vice President of Marketing and Communications for Stark Enterprises. "This event truly has something for everyone; from wine, beer and spirit lovers, experience seekers, and those looking for a fun evening out…the tradition continues, and this is something you will not want to miss!"
The event will be located starting at Center Circle between Anthropologie and Altar'd State on Main Street to Gap and Banana Republic, where attendees can stroll and visit different wine vendors to ask questions, sample wine and learn more about various vineyards and producers. Additionally, beer & spirit tents will be available as well as live music and food offerings from several Crocker Park restaurants including Burntwood Tavern & Leo's Italian Social.
The Crocker Park Wine Festival presented by Market District will open on Friday, September 17 from 4pm-10pm, and again Saturday, September 18, 2pm-10pm. Tickets are on sale through July 31 for early bird admission of $30 for a single day, and $50 for a weekend pass which both include a limited-edition wine glass and 10 tasting tickets per day. Designated driver tickets can be purchased on event day for $10, and full pour beer and wine options will be available and range from 4-6 tasting tickets. Admission ticket prices will increase August 1, so get your tickets NOW for the best deal. For more information on the Crocker Park Wine Festival and to purchase tickets, visit crockerparkwinefestival.com/tickets.
The Crocker Park Wine Festival is made possible by presenting sponsor Market District and beneficiary University Hospitals Rainbow Babies & Children's Hospital, as well as partners including Serpentini of Westlake, Maria Pettet and Integrity Home Group, Westland Heating, Air Conditioning and Plumbing, and Hyatt Place Hotel.

For more information contact Debra Sherman at 330-256-8704 or [email protected]. PO Box 814 Hudson OH 44236.
Sign up to volunteer at the Crocker Park Wine Festival! Enjoy the festival after your shift with a discounted admission rate!